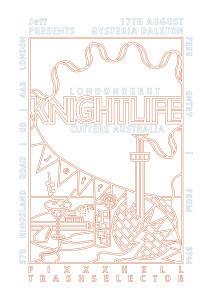 KNIGHTLIFE / Cutters Records, Australia
PIXXXHELL / Mucho Blast, Portugal, UKTrash Selector / Jeff's friend
Doors 9pm
Jeff is proud to present the amazing KNIGHTLIFE!  For the first time he will be playing in London and he will have the company of another great DJ also making his debut here: PIXXXHELL!
KNIGHTLIFE is from Cut Copy's Cutters Records and he is one of the best producers that Australia gave to the world in recent years.
We all know that Australians know how to make disco and dance music… and if you have any doubts about the talent of this gentleman just check his remixes for Cut Copy, Midnight Juggernauts or Bag Raiders or even better, check his amazing singles 'Discotirso' or 'I Want You'.
With his first LP due to the end of the year this is your chance to listen to him before he goes global!
https://www.facebook.com/knightlifemusic
https://soundcloud.com/knightlifecutters
But he won't be alone. From Portugal comes PIXXXHELL.  He has been destroying the Portuguese dance floors for years and now he is ready to show us all his secret weapons!  From small independent clubs to the best Lisbon spots (like the famous Lux) PIXXXHELL has the history and the experience to conquer the hardest of the cities: London! Be ready…he is!
https://www.facebook.com/pages/Pixxxhell/123402344338736?fref=ts
https://soundcloud.com/pixxxhell
To warm up the dance floor Jeff's long time friend TRASH SELECTOR will be giving you a set just as he likes it – eclectic and unpredictable. You will find yourself tapping your foot, moving your head… and then.. .well… your body won't be yours anymore.
https://www.facebook.com/events/159459120912487/